The Blacktongue Thief // written and narrated by Christopher Buehlman
Pub Day: May 25, 2021
Publisher: a Macmillan Audio production from Tor Books
Length: 12 hrs 26 min
Affiliate Link: Buy here on Bookshop.org
Synopsis:
Kinch Na Shannack owes the Takers Guild a small fortune for his education as a thief, which includes (but is not limited to) lock-picking, knife-fighting, wall-scaling, fall-breaking, lie-weaving, trap-making, plus a few small magics. His debt has driven him to lie in wait by the old forest road, planning to rob the next traveler that crosses his path.
But today, Kinch Na Shannack has picked the wrong mark.
Galva is a knight, a survivor of the brutal goblin wars, and handmaiden of the goddess of death. She is searching for her queen, missing since a distant northern city fell to giants.
Unsuccessful in his robbery and lucky to escape with his life, Kinch now finds his fate entangled with Galva's. Common enemies and uncommon dangers force thief and knight on an epic journey where goblins hunger for human flesh, krakens hunt in dark waters, and honor is a luxury few can afford.
My Thoughts:
I've been somewhat dreading writing this review because the mixed feelings I have about this audiobook are somewhat of a first for me. I have found myself laughing harder than I ever have before over a book but I've also found myself dreading listening to it again. It's been such a weird journey with Kinch Na Shannack, one that I am pretty sure I will find myself on again in the future despite my mixed feelings because there is no way I'll be missing out on those jokes!
Let me start with the reason I am giving this book a lower rating FOR RIGHT NOW: I just could not stay focused on this story for some reason. My mind kept wandering off almost every single time I listened. I have no idea why. But I would come back to it and would have no idea what city they're in now, who is with the main character, or what the goal of this journey even was for a long time. There is nothing specifically that I did not enjoy, to the contrary, I feel like this should've been great for me. I'm thinking that maybe I should have read the ebook for this instead because I realize sooner when my mind wanders and would've been able to pull myself back to paying attention sooner.
Now to the things I liked. If you are like me and have a mind that is deeply entrenched in the gutter, then this book will have you cackling out loud multiple times. The dirty jokes combined with the accent make for a very fun listening experience (I know, this sounds so weird after what I just said about the audiobook). This audiobook really is very well done and I couldn't have asked for a better narrator than the author himself. I also am a huge fan of animal companions and Bully-Boy stole my heart right away! I found this world incredibly interesting with its many different inhabitants, its history, and its magic system.
While I would've liked to learn more about the magic itself, I am hopeful for that in the rest of the series. I definitely am looking forward to more of his writing and am planning on rereading this in a different format before the next book comes out. I have a feeling that I will be able to immerse myself more thoroughly that way and have a better experience with it then.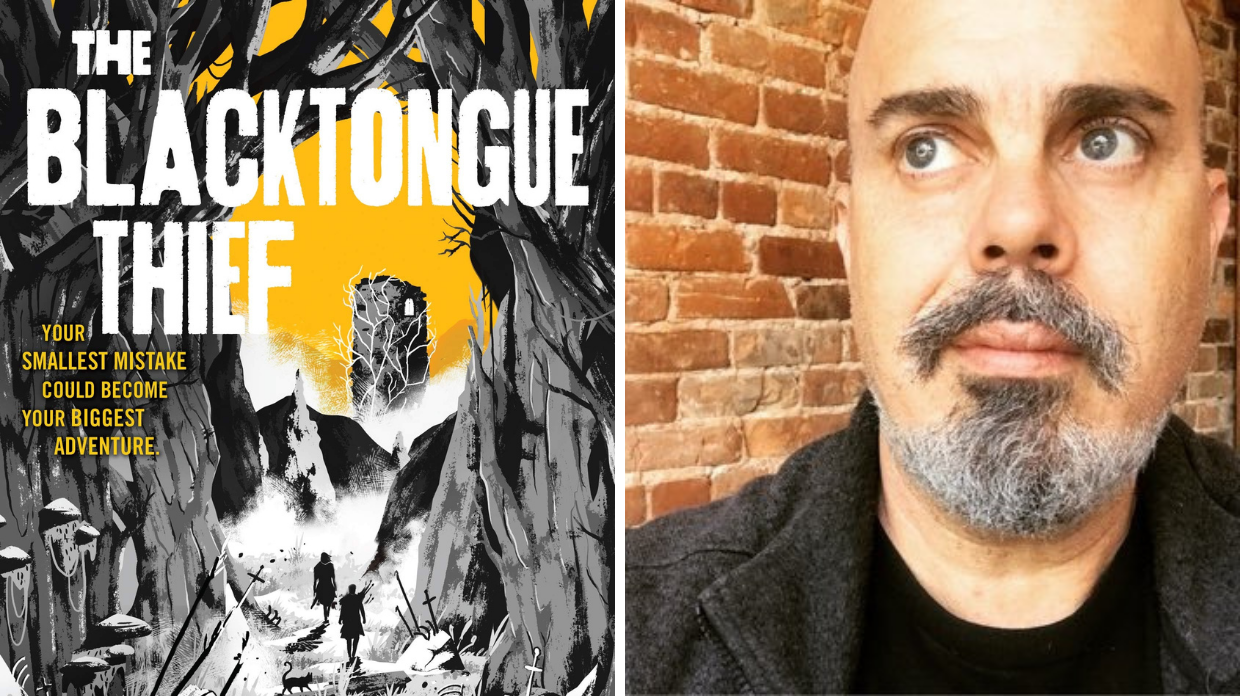 About the Author:
Christopher Buehlman is a writer and performer based in St. Petersburg, Florida. He is the winner of the 2007 Bridport Prize in Poetry and a finalist for the 2008 Forward Prize for best poem (UK). He spent his twenties and thirties touring renaissance festivals with his very popular show Christophe the Insultor, Verbal Mercenary. He holds a Bachelor's degree in French Language from Florida State University, where he minored in History. He enjoys theater, independent films, chess, archery, running, cooking with lots of garlic, and thick, inky, bone-dry red wines with sediment at the bottom.
About the Publisher:
Macmillan Audio was founded in 1987 as Audio Renaissance and published its first programs in 1988. Audio Renaissance was acquired by Holtzbrinck in 2001 and changed its name to Macmillan Audio in 2007. Macmillan Audio records the best fiction and nonfiction available for both adults and children from Macmillan's publishers, in addition to publishing original productions and titles from other publishers. The company's line of products also includes the language-learning series Behind the Wheel. Macmillan Audio narrators include Meryl Streep, Lorelei King, Stanley Tucci, Simon Vance, Gwyneth Paltrow, Katherine Kellgren, Holter Graham, and Cynthia Nixon, as well as President Jimmy Carter, Billy Crystal, Rob Lowe, and Bill O'Reilly, who have read their own audiobooks. Macmillan Audio productions have been nominated for six Grammy Awards and have won numerous Audie Awards and Earphones Awards. Macmillan audio titles are available digitally as well as on CD.
Thank you to the author, publisher, and NetGalley for providing me with a free copy in exchange for an honest review.
If you're interested in seeing other people's opinions, check out the following reviews: