Oliver (for Young Readers) // by Steven J. Carino and Alex Tresniowski
Pub Day: January 26, 2021
Publisher: Thomas Nelson
Length: 202 pages
Synopsis:
When Steven Carino discovered his dog, Oliver, had been stolen from his car, he knew he would do anything to get Oliver back. The friendly Yorkie–Shih Tzu mix—with his bundle of black and brown hair, long floppy ears, and big round eyes—had been Steven's companion during even the loneliest days. But it took more than one man to bring Oliver home. It took a community of friends and strangers who believed that love is worth fighting for.
Oliver for Young Readers is a story of good people—including hardworking immigrants, wealthy suburbanites, car mechanics, deli workers, old friends, close relatives, street cops, a dedicated TV news reporter, and one very gifted hairdresser—offering help without asking for anything in return. It's a story of near misses, false hopes, and fresh leads ending in a joy-filled reunion on the streets of a rundown New York neighborhood. It's a story of faith renewed and hope restored.
My Thoughts:
Ever since naming my book blog after my German Shepherd Ivy, I have regularly been receiving requests to read and review books about dogs. And I have to be honest: I hardly ever am able to stop myself from accepting. When I was contacted about Oliver for Young Readers, I only had to take one quick look at Oliver's face on the cover and I was head over heels in love with the little rascal. The premise for this book is both heartbreaking as well as heart-warming, promising us a story full of tears, adventure, and love.
I wasn't quite sure at the beginning which age range books "for young readers" aim for but after a closer look at the cover, I realized that it is for middle-grade readers, age 8 to 12. I don't often read middle-grade books, in fact, I think this is only maybe the third or fourth in a very long time. While this isn't a genre I will seek out regularly, I still really enjoyed this book a lot nonetheless. The format reminds me of a diary for most of the book and it was cute how Oliver's thoughts were sprinkled throughout as well (I know, I know, there isn't a sure way to know what dogs think but this IS aimed at young readers after all). I now even find myself referring to a Steve at work as Stee. Hah. We also get to hear a little bit about Steve's childhood and random stories about Oliver, which makes this book feel even more personal. One of my favorite parts though were the picture of Oliver and his friends in the second half of the book. I always love it when we get to see the characters in a book up close with their friends.
I don't know how the adult version of the book differs from this one but I did feel that sometimes this one felt a little bit too… over the top maybe? I am not a dramatic person myself in general so I can be a bit iffy about that in my books but then again, I am extremely attached to my own pup and probably would find myself acting exactly the same way in that situation as well. So take my opinion on that with a grain of salt. It is impossible to know how you yourself would act in a specific situation until it actually happens to you and I sure hope that will never happen. My heart goes out to Stee and Oliver for having to go through that but I am so glad he was able to see the positive in the situation. This book really teaches us to appreciate our four-legged companions while they are with us and that community, compassion, forgiveness, and love can move a mountain. This is an excellent book for your children to read alone or you to read and discuss all the themes together.
Warning: Steve is Christian and takes his beliefs seriously in his day-to-day life. You will see him talk about them several times throughout this book. I know some readers like to avoid religion in books so I wanted to throw that out there but I personally am not Christian myself and still enjoyed the book a lot nonetheless.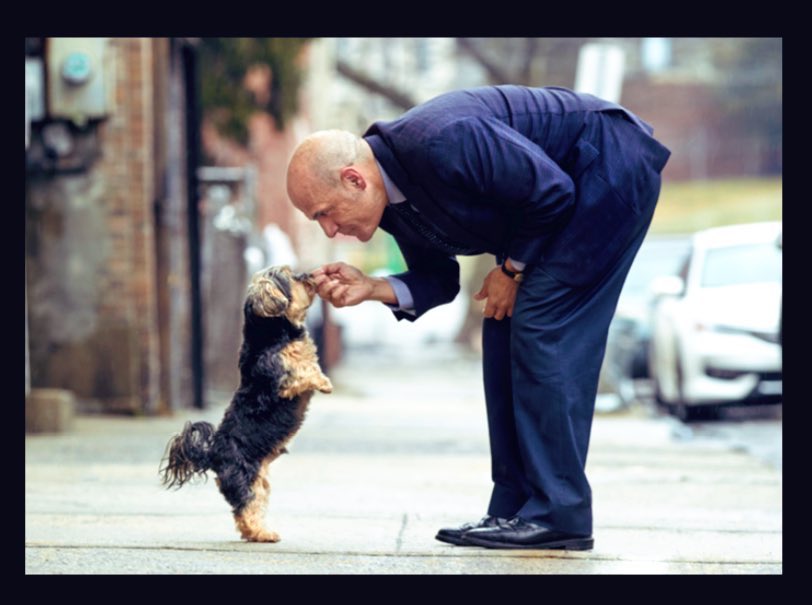 About the Author:
Steven Carino was born in Huntington, New York. The youngest of five children, he graduated from SUNY Brockport with a Bachelor of Science in American History. He worked as a DJ in New York City before launching careers in advertising and real estate and starting his own employment agency. Today, Steven has his own driving business and lives in a cottage in Bedford, New York, with his best friend, Oliver, and an array of sheep, goats, chickens, a horse, a rooster, and a mini-cow named Anna Belle. Oliver is Steven's first book.
About the Publisher:
Thomas Nelson is a world leading publisher and provider of Christian content.
With over 250 new, original books and Bibles published each year and distributed in more than 100 countries, translating content in more than 65 different languages, Thomas Nelson is committed to one central mission: inspiring the world by meeting the needs of people with content that promotes biblical principles and honors Jesus Christ.
Today, Thomas Nelson is also the house of iconic authors, such as Billy Graham, Max Lucado, Dr. David Jeremiah, Lysa TerKeurst, Bob Goff, Sarah Young, Colleen Coble, Dave Ramsey, and Jen Hatmaker, and houses several different imprints, including Tommy Nelson, Nelson Books, W Publishing Group, Emanate Books, NEXT Leadership Network, and Grupo Nelson. As part of HarperCollins Christian Publishing, Inc., the publishing group provides multiple formats of award-winning Bibles, books, gift books, cookbooks, curricula and digital content, with distribution of its products in more than 100 countries.
Thank you to the authors, publisher, and NetGalley for providing me with a free copy in exchange for an honest review.