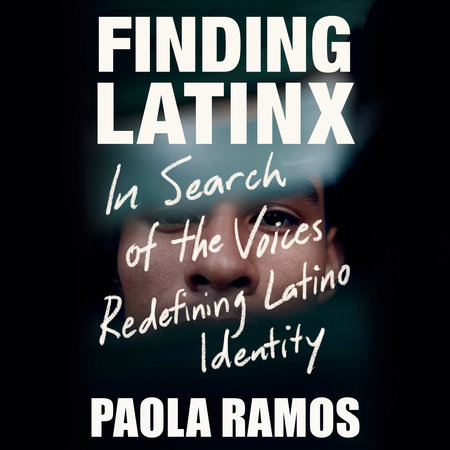 Finding LatinX – In Search of the Voices Redefining Latino Identity // by Paola Ramos
Pub Day: October 20, 2020
Publisher: Knopf Doubleday Publishing Group
Synopsis:
Young Latinos across the United States are redefining their identities, pushing boundaries, and awakening politically in powerful and surprising ways. Many of them—Afrolatino, indigenous, Muslim, queer and undocumented, living in large cities and small towns—are voices who have been chronically overlooked in how the diverse population of almost sixty million Latinos in the U.S. has been represented. No longer.
In this empowering cross-country travelogue, journalist and activist Paola Ramos embarks on a journey to find the communities of people defining the controversial term, "Latinx." She introduces us to the indigenous Oaxacans who rebuilt the main street in a post-industrial town in upstate New York, the "Las Poderosas" who fight for reproductive rights in Texas, the musicians in Milwaukee whose beats reassure others of their belonging, as well as drag queens, environmental activists, farmworkers, and the migrants detained at our border. Drawing on intensive field research as well as her own personal story, Ramos chronicles how "Latinx" has given rise to a sense of collectivity and solidarity among Latinos unseen in this country for decades.
A vital and inspiring work of reportage, Finding Latinx calls on all of us to expand our understanding of what it means to be Latino and what it means to be American. The first step towards change, writes Ramos, is for us to recognize who we are.
My Thoughts:
Finding LatinX was a reading experience unlike any other I have had. LatinX is a term that I only recently learned about and I was eager to find out more. My husband is from Mexico and we frequently speak of his country and its inhabitants, the things he loved there and the ones he was happy to leave behind, the struggles of being an immigrant in a country that can be so hostile towards newcomers and those it views as outsiders even if they have lived here their whole lives. Paola Ramos' book really made me wish that he was a reader so that we could discuss the things I was learning about in more detail. While I have always enjoyed learning about other cultures, and his, in particular, this book allowed me a glimpse into the lives of LatinX people in a completely new light, connecting different aspects and traditions of their cultures to the struggles and triumphs in their lives in (to me) unexpected ways.
The book is organized geographically, following her as she visits the Southwest, the South, the Northeast, and the Midwest regions of the United States. I liked how she used a journalistic approach with her research while also ensuring to make every issue personal by introducing people directly affected, activists working to improve their lives, as well as the history of many marginalized groups. Something that really impressed me is how she also spoke to people with views that she disagreed with vehemently and tried to understand their position as well as how they arrived at those views. I learned about how people can be both proud of their heritage as well as be critical of its problematic past, have different ideals while working together to reach a common goal, and how the many people make up this group as a whole as well as stand out individually at the same time.
This book left me with so many more things I want to learn that I did not even realize I did not know. It also left me viewing issues outside of the LatinX circle in a new light as many of them can be seen similarly in other marginalized groups as well. It seems I picked this book up at the perfect time with the upcoming elections as it provided me with a new lens to look at our country and the leaders and change I hope to see in the future. I do hope to read many more things from this author as I very much enjoyed her blend of the professional with the personal.
About the Author:
Paola Ramos was the deputy director of Hispanic media for Hillary Clinton's 2016 presidential campaign and a political appointee during the Barack Obama administration, and she also served in President Obama's 2012 reelection campaign. She is a former fellow at Emerson Collective.
Ramos received her MA in public policy from the Harvard Kennedy School and her BA from Barnard College, Columbia University. She lives in Brooklyn. She's Mexican, Cuban and American.
She is a journalist. Ramos is a correspondent for Vice and is a contributor to Telemundo and MSNBC. Ramos' work focuses primarily around Latinx issues. Ramos has been featured, and has served as a subject matter expert, in Latina, Popsugar, Bustle, Vice, Los Angeles Blade, South Kern Sol, HIV Plus Magazine, and on KCRW.
Find her on Twitter here and Instagram here.
About the Publisher:
Knopf Doubleday Publishing Group is a subsidiary of Random House that publishes across several categories including fiction and literary fiction, non-fiction, biography, autobiography and memoir. Within its imprints we represent: Alfred A. Knopf, Anchor Books, Doubleday, Everyman's Library, Nan A. Talese, Pantheon Books, Schocken Books, Vintage. Knopf authors include: Irving Stone, Isaac Asimov or Jon Krakauer.
About Casa Alitas:
Find our more information about Casa Alitas and how to donate here!
They serve migrant families who have left their homelands to escape violence and poverty. Casa Alitas is at the Mexico border in Arizona to provide assistance to these families in different forms, which may be showers, beds, bus tickets, and more.
About the Maya Heritage Community Project at Kennesaw:
As written on their website: "In 2002, Kennesaw State University students and local Maya refugees joined together to hold a workshop on Maya history, language and culture; in 2003 the University System of Georgia Office of International Education gave funds for a conference on the Maya, and thus began the Maya Heritage Community Project. […] The Maya Heritage Community Project researches and engages with Maya organizations and people of Maya heritage in the United States and inside the Maya homelands of Central America and Mexico. Currently the Maya Project assists with Census and Covid-19 information, and manages Maya America: Journal of Essays, Commentary, and Analysis."
Find out more about them here.
About the UndocuBlack Network:
"Founded in January 2016 the UndocuBlack Network is a multi-generational network of currently and formerly undocumented Black people that fosters community, facilitates access to resources, and advocates to transform the realities of our people, so we are thriving and living our fullest lives."
To find out more about UndocuBlack, how to get involved, and where to donate, visit here.
Paola Ramos lists many more organizations throughout and in the back of her book. I picked three to mention here but they all are important in their own way. I hope you will give this book a chance and enjoy learning and growing your awareness as much as I did. I find myself approaching the election in a much different way and am looking forward to following Paola Ramos in the future.
Thank you to the publisher and NetGalley for providing me with a free copy in exchange for an honest review!