"Develop your mind. More than ever, there is so much to learn, so much to know, so many different things to do. The opportunities to be whoever you want to be have never been more accessible to those who pursue their dreams." – Rapelang Rabana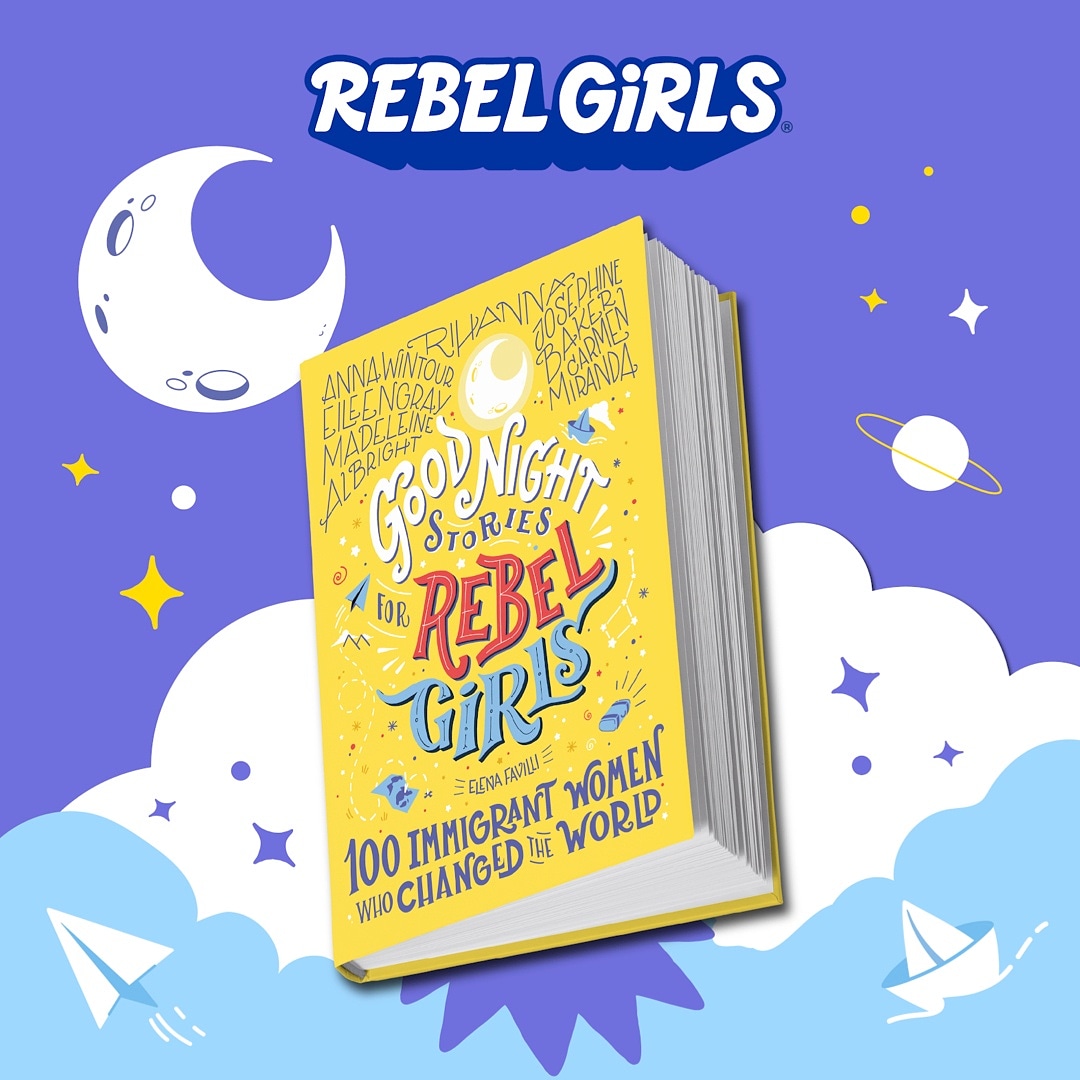 Goodnight Stories for Rebel Girls: 100 Immigrant Women Who Changed the World // by Elena Favilli // illustrated by 70 illustrators named below
Pub Day: October 13, 2020
Publisher: Rebel Girls
Synopsis:
The latest installment in the New York Times bestselling Good Night Stories for Rebel Girls series, featuring 100 immigrant women who have changed the world. Illustrated by 70 female artists from 29 countries.
Good Night Stories for Rebel Girls: 100 Immigrant Women Who Changed the World is the third book in the New York Times bestselling series for children. Packed with 100 all-new bedtime stories about the lives of incredible female figures from the past and the present, this volume recognizes women who left their birth countries for a multitude of reasons: some for new opportunities, some out of necessity. Readers will whip up a plate with Asma Khan, strategize global affairs alongside Madeleine Albright, venture into business with Rihanna, and many more. All of these unique, yet relatable stories are accompanied by gorgeous, full-page, full-color portraits, illustrated by female artists from all over the globe.
My Thoughts:
I don't remember when I bought the first book in this series for the first time, but ever since I first stumbled upon it, I have bought it for young girls anytime I needed a gift. I have been raving about these books for years and was so thrilled when I saw this one on NetGalley. A Rebel Girls book entirely focused on immigrant women? GIMME THAT! As an immigrant woman myself, I knew I had to read this as soon as possible and was thrilled to receive the ARC!
As always, the stories about each woman are short and to the point. We learn where they are from, what country they moved to, and what they accomplished. There is a wide variety of professions covered, from ballerinas to scientists, ambassadors to professors, engineers to architects. There are also a lot of countries represented as well, from Germany to Japan, Canada to South Africa, South Korea to Ireland. I loved hearing about the many nationalities and cultures, and learned so much myself. There were women from my own country that I had never heard of, such as Karin Schmidt who became chief veterinarian for the Iditarod, and I am so glad that they are being memorialized in this book.
The following are some of the amazing women that are featured in this book. This is only a fraction of them and there are many more that are just as amazing!
Anna Wintour
Carmen Miranda
Diane von Fürstenberg
Eileen Gray
Elisabeth Kubler-Ross
Gloria Estefan
Hannah Arendt
Ilhan Omar
Josephine Baker
Lina Bo Bardi
Lupita Nyong'o
Madeleine Albright
Marjane Satrapi
Rihanna
Samantha Power
Jawahir Jewels Roble
What I always love about these books, and it was again the same this time, is that it always leads me to so many more resources where I can learn more about strong women. I learned about books, podcasts, plays, and other resources that I can seek out to continue educating myself. It is also fun that after the last story, there is a page where girls can write their own story and place their own portrait. It is such a great way to show them that each and every one of them has the opportunity to do great things if they are just willing to try! The book is rounded out with a short glossary that covers terms, such as diplomat, ancestor, and legacy, that may be helpful to young readers.
Each story is beautifully illustrated by women from all around the world. The whole book is full of vibrant colors that will draw in every child that is eager to learn about who they could become or that is seeking out more role models. While I would say this book is geared toward elementary and middle school children, I do believe that leaving this book in an easily visible spot around the house could encourage and inspire girls and women of any age.
The Illustrators:
The beautiful illustrations are brought to you by 70 illustrators that identify as women and come from all over the world. These are their names:
Maliha Abidi – UK
Monica Ahanonu – USA
Marian Bailey – USA
Adriana Bellet – Sweden
Elenia Beretta – Italy
Fanny Blanc – France
Petra Braun – Austria
Veronica Carratello – Italy
Sally Caulwell – Ireland
Karina Cocq – Chile
Maggie Cole – USA
Sophie Cunningham – UK
Michelle D'Urbano – Zambia
Alessandra De Cristofaro – Italy
Camille De Cussac – France
Elena De Santi – Spain
Eleni Debo – Italy
Sally Deng – USA
Noa Denmon – USA
Jeanne Detallante – Belgium
Aurélia Durand – France
Barbara Dziadosz – Germany
Cindy Echevarria – USA
Olivia Fields – USA
Maïté Franchi – France
Yasmine Gateau – France
Marta Giunipero – Italy
Yevhenia Haidamaka – Ukraine
Abelle Hayford – USA
Gosia Herba – Poland
Kathrin Honesta – Indonesia
Bodil Jane – The Netherlands
Laci Jordan – USA
Sabrena Khadija – USA
Sasha Kolesnik – Russia
Lisa Lanoë – UK
Nan Lawson – USA
Sonia Lazo – El Salvador
Juliette Léveillé – France
Helen Li – Poland
Kiki Ljung – Spain
Sarah Loulendo – France
Akvile Magicdust – Lithuania
Cristina Martín – Spain
Tyla Mason – South Africa
Jenny Meilihove – Israel
Nicole Miles – The Bahamas
D'Ara Nazaryan – USA
Salini Perera – Canada
Alice Piaggio – Switzerland
Jennifer Potter – USA
Cecilia Puglesi – Argentina
Irene Rinaldi – Italy
Luisa Rivera – Chile
Paola Rollo – Italy
Veronica Ruffato – Italy
Eva Rust – Switzerland
Josefina Schargorodsky – Argentina
Elisa Seitzinger – Italy
Stephanie Singleton – Canada
Jestenia Southerland – USA
Valencia Spates – USA
Tatheer Syeda – Pakistan
Léa Taillefert-Rolland – France
Meel Tamphanon – Thailand
Annalisa Ventura – Italy
Katerina Voronina – Germany
Decue Wu – USA
Aline Zalko – France
Amalteia – Portugal
Shoutout to Emilio at Rebel Girls for helping me with this list. Stay safe and Rebel!
About the Author:
Elena Favilli is a New York Times bestselling author, journalist, and breaker of glass ceilings. Elena is the founder and Chief Creative Officer of rebel Girls, a media company dedicated to inspiring the next generation of brave and confident girls. In 2016, she co-wrote and published the most crowd-funded literary project in history, Good Night Stories for Rebel Girls, now translated into nearly 50 languages. She has written for the Guardian, Vogue, COLORS magazine, McSweeney's, RAI, Il Post, and La Repubblica. She lives in Los Angeles with her dog Lafayette, a Bracco Italiano.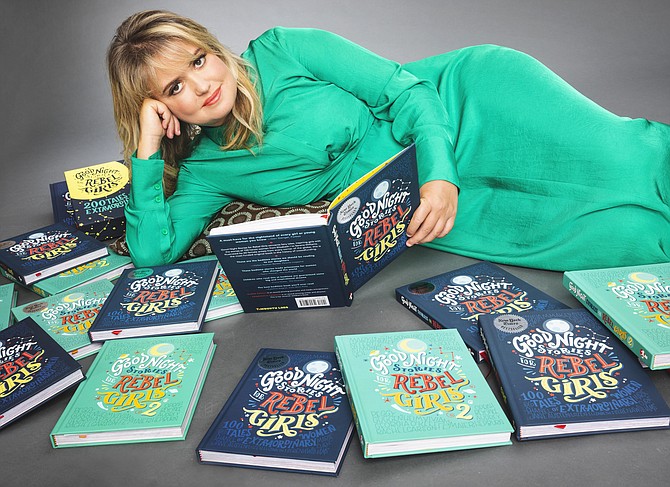 About the Publisher:
Rebel Girls is the preeminent educational entertainment company that empowers girls to pursue their dreams without limits. Rebel Girls products inspire girls to dream bigger and realize their fullest potential, by introducing them to extraordinary women throughout history. Stories are brought to life through publishing, podcasts, toys, and digital media. The Rebel Girls community spans over 85 countries, with 5.5 million books sold in 49 languages and 6 million podcast downloads.
Other Titles in the Rebel Girls Series:
Goodnight Stories for Rebel Girls
Goodnight Stories for Rebel Girls Volume 2
Alicia Alonso Takes the Stage
Dr. Wangari Maathai Plants a Forest
Junko Tabei Masters the Mountains
Madam C.J. Walker Builds a Business
Ada Lovelace Cracks the Code
For more information, art & apparel, and free activities, visit: https://www.rebelgirls.com/
The Podcast:
Good Night Stories for Rebel Girls: The Podcast is a fairy tale podcast about the extraordinary women who inspire us.
The show is based on Good Night Stories for Rebel Girls, the global best-selling book series inspiring millions of girls and women around the world to dream bigger, aim higher, and fight harder.
To find out more or to listen, click here: https://www.rebelgirls.com/pages/podcast
A huge thank you to the author, publisher, and NetGalley for providing me with a free copy in exchange for an honest review. I am thrilled to be a part of this by sharing my review. While we do not have our own children yet, I will continue to share these books with the young girls in my life and no matter how our future children identify, these books will always have a place in our home.