The Trials of Koli// by M. R. Carey
Book 2 of The Rampart Trilogy // See my review for The Book of Koli here.
Pub Day: September 15, 2020
Publisher: Orbit Books
Synopsis:
The earth wants to swallow us whole…
Koli never planned to set foot outside his small village. He knew that beyond its walls lay a fearsome landscape filled with choker trees, vicious beasts and Shunned men. But when he was exiled, he had no choice but to journey out into this strange world where every moment is a fight for survival.
And it's not just Koli's life that is threatened. Whole villages just like his are dying out.
But Koli heard a story, once. A story about lost London, and the mysterious tech of the Old Times that may still be there. If he can find it, there may still be a way for him to change his own fate – by saving the lives of those who are left.
My Thoughts:
I finished this book about a week ago and have been dreading writing this review since. I loved this book and it's always the ones I love the most that I worry about writing reviews for the most. It stresses me out to find the appropriate words to convey my love for a book without scaring someone away with my enthusiasm at the same time. But I assure you, I very much enjoyed my time back in Ingland with Koli and his companions, and here is why.
Koli of course is as charming and full of heart as ever. Yes, he can be absolutely clueless sometimes and a little bit of an airhead. He is our adorable Koli-boo though and you cannot really be mad at him with his sheltered kid vibe. While that sounds critical, I really do not mean to be harsh because Koli also often has some really deep thoughts that stem from how he tries to understand other people and put himself in their place. While he might not always agree with their thinking, it does show great character that he considers things from all angles before forming an opinion. I also like that despite his wary travels and having had his life threatened multiple times since leaving Mythen Rood, he still does not like to kill and tries to find an alternative whenever possible. I'm honestly not sure if I have ever rooted for a character this much before and I am wondering if I am in for the biggest heartbreak of my reading life since the third and last installment in The Rampart Trilogy is called The Fall of Koli.
This second book though is not only narrated by Koli, but also by his former best friend Spinner. I was a little disappointed by this at first because I really just wanted to find out more about Koli's journey but that opinion changed rather quickly. It was so interesting to see things through Spinner's eyes. I loved how much Spinner enjoys learning and you realize rather quickly that she has had a much different education than Koli, in the way she speaks and perceives things. She is also a lot more cunning, which I did not expect at all after Koli's description of her in the first book. I was rather offended for Koli's sake in the beginning but started craving her narrations soon as well. She is a great storyteller and really knows how to play with the reader's emotions. We not only get to hear about Koli's banishment from her point of view but also what happens with Mythen Rood after he leaves. Her life does not exactly play out like she has planned and she has several difficult decisions to make herself as well and it is interesting to hear her line of thinking. While she does consider others as well, it does not feel as genuine as it does with Koli and sometimes has a tinge of self-serving to it.
Both perspectives teach us a lot about the Ingland of their time in terms of society, flora and fauna, and technology. There are also again complicated topics, such as identity, sexuality, artificial intelligence, religion, ethics, and personal responsibility, that somehow get stripped down to the very basics for both narrators as they often are in the very beginning stages of learning of these things. I enjoyed the conflict of wanting to choose a comfortable life in a community of welcoming strangers versus being a part of trying to better the world for everyone still clinging on to life in such harsh circumstances. While Koli struggles with this decision, Spinner on the other hand has a chance to change the future of her community with the information she learns during her dealings with the Ramparts. Carey really knows how to pack a lot of things into his books without making it feel like they take over the entire story.
Just like in the first book, I really enjoyed the world-building itself apart from the story. While this Ingland feels somewhat fantastical with the plants and animals we get to hear about, it also feels oddly realistic and within reach at the same time. It is easy to picture out world heading in this exact direction and that makes this read both fascinating as well as slightly terrifying. I am really looking forward to the third book to learn more about the history as well as everyone's adventures, especially since Carey left us with a big cliffhanger this time. I said in my review of The Book of Koli that the first book very much feels like the beginning of a trilogy due to its slow start and being left open-ended, and here again, Carey leaves us wanting more and chomping at the bit to get our hands on the last book. There is a lot going on in this book but he really built things up for the next one!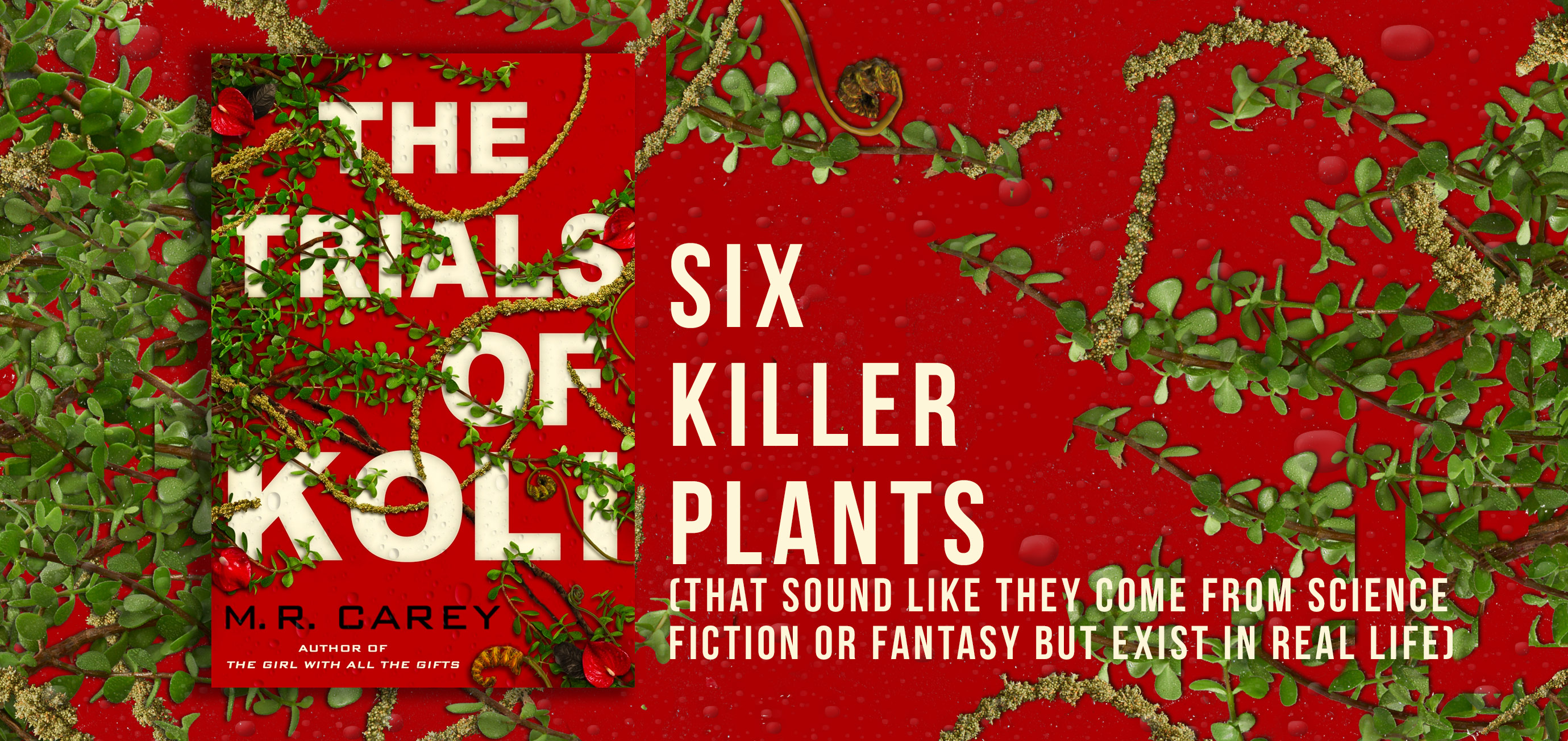 The deadly plants in The Rampart Trilogy sound terrifying but we know that at least for now, they are not real and cannot hurt us, but click here to read about real-life killer plants that sound like they come straight out of your nightmares! Some of them you may recognize while reading The Rampart Trilogy!
About the Author:
M. R. Carey is a writer who is equally at home in a wide range of media. His previous novel The Girl With All the Gifts was a word-of-mouth-bestseller and is soon to be a major motion picture based on his own screenplay. Under the name Mike Carey he has written for both DC and Marvel, including critically acclaimed runs on X-Men and Fantastic Four, Marvel's flagship superhero titles. His creator-owned books regularly appear in the New York Times graphic fiction bestseller list. He also has several previous novels, two radio plays and a number of TV and movie screenplays to his credit.
About the Publisher:
Orbit is a leading publisher of Science Fiction and Fantasy, with imprints in the UK, US and Australia. They publish across the spectrum of Science Fiction and Fantasy – from action-packed urban fantasy to widescreen space opera; from sweeping epic adventures to near-future thrillers. Launched in 2007, Orbit US is the Science Fiction and Fantasy imprint at Hachette Book Group USA.
Orbit is my absolute favorite publisher, both to read as well as to review for. They have been so friendly in all interactions, are a lot of fun on Twitter, and just spoil their reviewers like crazy. I am excited for everything I get from them and have not yet found a book I don't like. Make sure to check them out!
Thank you to the author, publisher, and NetGalley for a free copy in exchange for an honest review.