"May your path always lead to knowledge."
"Knowledge to freedom."
– Entropic Litany
To Sleep in a Sea of Stars // by Christopher Paolini // narrated by Jennifer Hale
Pub Day: September 15, 2020
Publisher: Macmillan Audio // Tor/Forge
Synopsis:
Kira Navárez dreamed of life on new worlds.
Now she's awakened a nightmare.
During a routine survey mission on an uncolonized planet, Kira finds an alien relic. At first she's delighted, but elation turns to terror when the ancient dust around her begins to move.
As war erupts among the stars, Kira is launched into a galaxy-spanning odyssey of discovery and transformation. First contact isn't at all what she imagined, and events push her to the very limits of what it means to be human.
While Kira faces her own horrors, Earth and its colonies stand upon the brink of annihilation. Now, Kira might be humanity's greatest and final hope . . .
My Thoughts:
When I first read the book blurb, I was a little skeptical. I really do not care for space operas, whether it is in book or movie form. But I have to be honest: Sometimes I judge a book by its cover and this one had me obsessed right from the start (if you cannot tell by all the graphics included in this post). Also, this one is by Christopher Paolini and I felt an obligation to read it just based on that because there are not many authors that have had as big of an impact on my reading as a teenager as he has.
OH MY. Am I glad that I stayed up past midnight to claim this book from BookishFirst! And once I realized how big it was because I never look that kind of info up beforehand, am I glad that Macmillan Audio approved me for the audiobook on NetGalley!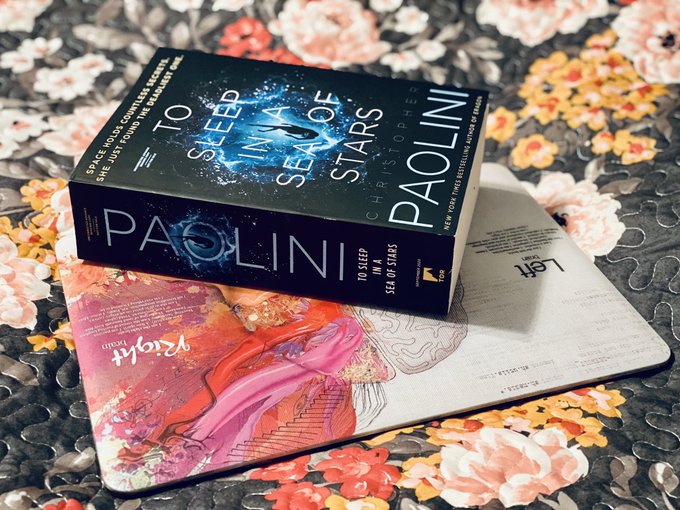 I have a lot of thoughts about this book and I have been dreading writing this review because I was worried I would not be able to put my thoughts into words as eloquently as I have seen so many other reviewers do over the last view weeks. But tomorrow is pub day (SO EXCITING) so it is time to get this done!
I LOVE THIS BOOK.
Ok. Now that I've gotten that out, I can go into the actual details of why. I don't think there was anything I would've wanted differently about this book honestly. The writing, the world-building, the character development, the science, the audiobook production, you name it – I love it all. This book is about space settlement and exploration, relationships, deeply personal human strength, wonders, politics, war, and nightmares. It has so many different topics it touches on in amazing detail yet it does so without drowning or overwhelming you with it. It is a long story – or rather experience, especially if you are listening to the audiobook – but when it is over, you find yourself missing your crew and the adventures you went on together.
TSIASOS is split into into three parts: Exogenesis, Sublimare, and Apocalypsis. The last of these takes up the most room in the story. He sometimes writes rather lengthy chapters but if you are not a fan of that, he does split up his chapters into parts as well so it never feels like you're stopping in the middle of something where it will make be difficult to orient yourself later.
While this book is not written as a first-person narration, it is written from the point of view of one character: Kira Navarez. Sometimes I am rather skeptical when a male author writes such a large book from the view of a female character. If you read enough books, eventually you may understand why. It can feel really awkward sometimes. But that is not the case with Paolini. I know not everybody agrees with me but for me he created a wonderful character that drew me in right away! Kira is such a strong female role model that was really easy to picture in my mind. A biology nerd! In space! Yes please! What I really loved about her though was that she was not a perfect person. Not at all. She could be scared, indecisive, doubtful, stubborn. Hell, she brought a whole alien species down onto humanity! But she was also loyal and loving and daring and brave and determined and sincere! And all that together created a character that was perfect for this mission.
But this was not just about Kira. Paolini also created a wonderful crew to stand by her side. I loved all the characters that he sent with her. They were such a variety of personalities that brought so many different kinds of relationships to this story. What I liked a lot was that this was not a story about romantic love. Yes, there were bits here and there, of course, because every good epic has relationships of all kinds in it, but there was no romantic love interest of Kira's that was the focus of this book. This was about Kira's love for humanity as a whole and that made this book that much better. But back to the others! Not only does Paolini give us a beautifully developed main character, he also gave us a crew and worlds full of people that are so well thought out that it is hard to believe they are not real. Every single one of these people I could imagine in real life because their thoughts and actions and emotions just made so much sense in these situations. They felt so natural.
Now, I have to be honest, I would not be able to tell you how diverse this lineup is overall. I very much struggle with remembering little details in my reading that are not repetitive (talk about a challenge at a job with lots of regulations and protocols!) and that is exacerbated when I am listening to an audiobook since I am not looking at the words myself. So I would not be able to tell you the race, nationality, etc. of each character specifically or how many of each are represented, but I did enjoy listening to how certain nationalities would tend to settle in specific areas or the times when a crew member spoke in Korean. I also liked the fact that LGBTQIA+ characters were mentioned but that their existence was not something that was controversial, just a part of life like it should be.
So the length of the book is something else that has been a topic of disagreement among reviewers it seems. Whether you will like that or not will depend on what kind of books you enjoy, in my opinion. I loved it and would have loved to have several hundreds more pages but that is because I love the kinds of details he put in this story. There was a lot of action going on that is obviously very exciting, but there are also sections that are rather slow. This is where the relationships are built, where we learn about the science and technology, the backgrounds of the characters, the details about space exploration and colonies. This is what makes a good book a great one to me. It is what makes it possible to imagine the world that he built as if it was real and tangible, a place you and I could visit. Characters that we may meet someday. So if that is what you are looking for in a good book, then this will be just right for you. But if you prefer action-packed and fast-paced all throughout, then this is probably a little too drawn out for you.
Since obviously just having this giant book is not enough, Paolini blessed us with a great addendum as well. Here you get to enjoy a lecture from the UMC Naval Academy on ship-based combat in space, an excerpt from the Entropic Principa on space travel, a terminology section (I see what you did there, Paolini! ~~~), and a timeline. This us helpful throughout the book if you need a refresher on a certain term. I have to be honest, I am bad about not reading afterwords and acknowledgements, but I am glad I did this time. He gave us some interesting bits about his writing life that just made me so nostalgic for Eragon again. What rounds out the book so well after all of that is the beautiful cover as well as the artwork throughout the book. There is just so much work that went into this book and I appreciate every little detail of it.
So if you are ready for an epic space opera about aliens and artifacts, love and hate, trust and betrayal, science and new religions, triumphs and incredible heartbreaks, civilian and military combat, and politics and humanity – then this is the book you do not want to miss out on!
About the Audiobook:
Jennifer Hale – wow. She deserves more than just a sentence tacked onto the end of a review about her being a great narrator. Jennifer Hale is
I.N.C.R.E.D.I.B.L.E.
There really is no other word for it. As soon as the audiobook was over, I tweeted about how I had to find every other book that she has narrated because I just needed them all in my life. And you know what she said? (Yes, she answered me and I totally fangirled over it) This was her first ever audiobook narration! WHAAAT?!? I know she has great experience with narrating shows and video games and the like, but it still blows my mind that her first ever audiobook was more than 32 hours long and that she did had me mesmerized the entire way through! I know y'all probably think I'm exaggerating but I really did enjoy her narration that much. She pulled me into the story so deeply that it was disorienting to leave it sometimes. She has an incredible range of voices (50 characters!) and her little sound effects were so fun! I have been listening to other audiobooks on a faster speed lately but I listened to this one on normal speed the entire way through because it just would not do it justice otherwise. It would have been a shame to miss out on her talent by rushing through and to be honest, this book also had way too many details for me to listen faster. A nice bonus with the audiobook was that we got an interview between Christopher Paolini and Jennifer Hale at the end.

Ok. I couldn't find a smooth way to put this in there and I just have to get this out but….
I LOVE GREGOROVICH. OMG. He is HILARIOUS. Christopher Paolini, if you're reading this, PLEASE just tell me if he will be back in a future book! I NEED more Gregorovich! I also need more of Jennifer Hale narrating Gregorovich because that was just perfect!
Also.
THE NEWT PUNS. I laughed so hard when they came back again. HAHAHAHAHAHA.
Virtual Tour with the Author:
I am signed up for the virtual tour with Christopher Paolini at his Quail Ridge stop In Raleigh, NC, my favorite independent bookstore. They already confirmed that I was one of the first 100 ticket buyers so of course I am absolutely thrilled to be getting a signed bookplate with my physical copy. I already have a print ARC of this book as well as the audiobook but there was no way I could say no to this! If you want to sign up for the virtual tour also, here is the schedule!
About the Author:
Christopher was homeschooled by his parents. As a child, he often wrote short stories and poems, made frequent trips to the library, and read widely. The idea of Eragon began as the daydreams of a teen. Christopher's love for the magic of stories led him to craft a novel that he would enjoy reading. The project began as a hobby, a personal challenge; he never intended it to be published. Christopher was fifteen when he wrote the first draft of Eragon. In 2011, the Guinness World Records recognized him as the "youngest author of a bestselling book series." Christopher is grateful to all his readers. He is especially heartened to hear that his books have inspired young people to read and to write stories of their own.
For more about and from the author or to see the many fun things related to this new book, such as jewelry and News Segments, go here: https://www.paolini.net/
About the Narrator:
Canadian-American, award-winning voice over actor, Jennifer Hale, has been dubbed "a kind of Meryl Streep of the Form" by New Yorker Magazine and holds the world record for the most female video game voices. She earned this and many other accolades in popular game franchises like Halo, World of Warcraft, Overwatch, Baldur's Gate, Mass Effect, Metroid Prime, Metal Gear Solid, Spider Man, BioShock Infinite, and Star Wars: Knights of the Old Republic, to name a few. In addition to her many video game roles, she has been a series regular, recurring and guest performer in hundreds of cartoon episodes.
Jennifer is known for breaking down gender stereotypes and same-sex relationship barriers in video games and animation. In fact, when it comes to casting, she likes "to take the boys' jobs," as she said in More Magazine.
Now, she's busting through the glass ceiling on another taboo topic: money. With her podcast, Beyond Money, Jennifer's lighting the way to bring everyone up, tackling topics like how much to save, career, advice, and activism when it comes to your dollars..
Check her out here: https://jenniferhale.com/
About the Publisher:
Macmillan Audio was founded in 1987 as Audio Renaissance and published its first programs in 1988. Audio Renaissance was acquired by Holtzbrinck in 2001 and changed its name to Macmillan Audio in 2007. Macmillan Audio records the best fiction and nonfiction available for both adults and children from Macmillan's publishers, in addition to publishing original productions and titles from other publishers. The company's line of products also includes the language-learning series Behind the Wheel. Macmillan Audio narrators include Meryl Streep, Lorelei King, Stanley Tucci, Simon Vance, Gwyneth Paltrow, Katherine Kellgren, Holter Graham, and Cynthia Nixon, as well as President Jimmy Carter, Billy Crystal, Rob Lowe, and Bill O'Reilly, who have read their own audiobooks. Macmillan Audio productions have been nominated for six Grammy Awards and have won numerous Audie Awards and Earphones Awards. Macmillan audio titles are available digitally as well as on CD.
____________________________________________________________________
Tor Books is the most successful science fiction and fantasy publisher in the world. Winner of the Locus Award for best SF publisher 20 years in a row, Tor regularly puts books like Robert Jordan's Knife of Dreams and Terry Goodkind's Chainfire atop national bestseller lists. Tor's Orb imprint offers trade paperback editions of outstanding, award-winning SF and fantasy backlist titles. Additionally, the Tor Kids program includes Starscape, Tor Teen, and one of the largest classics lines in North America.
The Forge imprint publishes a wide range of fiction, including a strong line of historical novels and thrillers, plus mysteries, women's fiction, and a variety of nonfiction titles. Tor/Forge has also become the leading modern publisher of American westerns.
Well-known authors recently published by Tor and Forge include Andrew M. Greeley, Douglas Preston, Orson Scott Card, Michael & Kathleen O'Neal Gear, Harold Robbins, Susan Kearney, Jonathan Carroll, Brian Herbert, Kevin J. Anderson, Andre Norton, Terry Goodkind, Robert Jordan, former Secretary of Defense William B. Cohen, Susanna Clarke, Allan Folsom, Eric Lustbader, Elizabeth Haydon, Gene Wolfe, Morgan Llewelyn, David Lubar, David Weber, Christopher Pike, and Philip K. Dick.
Thank you to the author, publisher, and NetGalley for providing me with a free copy in exchange for an honest review. This is truly now one of my all-time favorites and I am so glad I was allowed to be a part of this before publication. What a dream come true after growing up with Eragon. Also, after several weeks of wondering, I finally found out the other day that this will be a series and that we will get many more stories set in the Fractalverse. I cannot wait!