"A reader lives a thousand lives before he dies . . . The man who never reads lives only one." – George R.R. Martin
I used to be the type of reader that would just finish what I was currently reading and then go off to find my next one at the story or online without much forethought. I just took whatever struck my fancy at that time. Or maybe I was there to grab a specific book thanks to a recent recommendation from a friend. But I can't say that I had a very long list of books on my TBR. I was not that organized about it at all.
Oh how things have changed!
Now, I wouldn't even be able to tell you the number of books on my TBR (virtual and real-life pile) if I rounded it to the hundreds because there are just so many. I don't think I'm exaggerating if I say there may be about 200-300 of physical books at my house that I have not read yet but really, really, really want to. Add to that the lists I have on Amazon (2 separate ones!), on Litsy, and on Goodreads. I'm sure I also have a couple of saved book posts in Instagram, though I don't use that function very much. Those probably drive things up into the thousands.
But my favorite TBR shelf that probably moves and shifts the most this year is my NetGalley "Give Feedback" shelf. I actually keep up with that number in general, though it does not go down as much as I would like it to. If you know NetGalley at all or follow some ARC readers that regularly use it, then you may be familiar with the rant of it being impossible to stop yourself from requesting more books there. If you don't know what NetGalley is, here is a quick description from their page:
NetGalley helps influential readers discover and recommend new books to their audiences. If you are a reviewer, blogger, librarian, bookseller, educator, journalist or other member of the media, you can use NetGalley for free to request, read, and recommend books before they are published. Your reviews and feedback are essential to publishers and other readers!
I was in a deep book slump following college. This partially had to do with a job that demanded a lot of energy from me, physically and emotionally. While it probably seemed to my then-boyfriend like I was just a casual reader since I did pick up a book here and there, it was nothing compared to who I wanted to be, which was the girl that always had a book, no matter where she went. The one I am now again. When I got a new job where I spent about 1.5 hours every day in the car commuting, I started listening to podcasts, something I always wanted to do but for some reason just never did. My favorite one at the time was "What Should I Read Next" by Anne Bogel. This was my first experience having an ever-growing TBR list that I knew I'd never be able to master. Anne and her guests just spoke about SO MANY books that I really wanted to read but knew I would never have enough time for. And yet, I still hardly picked up any books besides maybe one or two a month, if even. The TV was a better friend still at that time than my homemade bookshelves.
"You can never get a cup of tea large enough or a book long enough to suit me." – C.S. Lewis
But one day I heard the word ARC. And another day egalley. And then NetGalley. Anne speaks to a lot of librarians and other people that receive ARCs. I had no idea what any of them were but after several months of hearing these words without much explanation, I finally decided to check out NetGalley. And WOW. How had I not known this was a thing? By now, we had bought a house that actually had some extra room. I started casually checking the different categories on NetGalley, only requesting here and there. And for the first about 6 months, I actually did a mostly great job at keeping up with pub days. I had most of my review in before then and would post one on NetGalley here and there. We also went to Ikea and bought some beautiful Billy bookshelves. Our cheap Walmart shelves just weren't keeping up with the weight of the books I owned at the time. I lost a lot of books over the years, moving across the ocean and to a different state eventually as well.
Slowly, my reading picked up. And as that picked up last year, so did my requesting. There are just SO MANY awesome sounding books on NetGalley! And they may just be a button away even if they are Read Now! During this time, my friend introduced me to Second and Charles. How had I never stopped there before?! I had always heard there was one in my college town as well but I get very anxious about going to new stores by myself so I never checked it out before. What a treasure trove! And soon after, I also went into our local Goodwill for the first time. The one I was used to during school did not have a nice selection of books at all so it never occurred to me to check them out somewhere else. What a mistake! I guess living near a military base means lots of people purge their homes of books rather than moving them regularly. I can comfortably say that I have bought hundreds of books in the year since I first walked in there. What can a book loving gal say when she sees almost new looking hardcovers for less than $2??
Right before the start of Covid, I decided to learn how to sew – which of course was super convenient when everybody started asking for face masks. So for a few months, my reading went on the back-burner again, begrudgingly so this time. I made sure to listen to books on audio now to ensure I wouldn't give up completely but I did way too much sewing before and after work every day to really get any reading in with print or ebooks. It was a sad time for my reading life but I don't regret it. I had an extra small income and I helped those out that needed masks at a low cost.
That is the reason though why my NetGalley shelf is so out of hand now. I currently have 104 books and 5 audiobooks waiting to be reviewed. While I was making masks, publishers continued to approve me for titles. I very very very much appreciate that and I am looking forward to reading every single title on my list. But it does occasionally feel very overwhelming. I'm reading every day now to do my best to catch up but as most other NetGalley users know: no matter what goal and limitations you set for yourself, that itching in your fingers doesn't stop until you request a couple more titles. Because they are all just so good and being part of the promotion of those books in any way is just so much fun!
Over the past couple of weeks, I decided to step up my game a little on social media as well. It's slow going. I'm not the most confident at socializing and I know my awkwardness flows over into those channels as well, but I'm doing my best. I started this blog, I picked Litsy and Instagram back up, and I started a Twitter. I also decided to overhaul my Billy bookshelves. When I bought them, they were almost empty. Now I have way more books than I can fit on there and all the awesome Bookstagrammers I follow have inspired me to make them look nicer now also. So after years of avoiding hardcover books, I now get them anytime I can because oh man, they just make those shelves so much more beautiful!
So for those that are somehow still reading along…. that brings me to my goals for this year. I'm trying not to be overly zealous, but I do want to push myself a little as well.
Bring my NetGalley "Give Feedback" shelf down to below 90. I know, I know. That's still a ton. But that's at least 19 books plus a book for every book that gets approved from now on. And we all know those can add up quickly.
Finish 3 books by their pub day each month. I'm posting old review on this blog also or those books that I finish that are already published, but I want to make sure I keep up with current publishings as well.
Finish all my BookishFirst books. I have 2 more left, one of which I have already started, and I am continuing to enter some of the raffles because it's just so fun to get print ARCs.
Publish at least 2 blog posts a week for the rest of the year (though right now I'm trying to do more to get my name out there).
Post on IG, Litsy, and Twitter at least once a day. Twitter is easy because the community there is just so fun to interact with but it has been a lot harder for me to interact regularly with people on the other 2.
Reach 650 followers on IG and 400 on Twitter. I'd like more on Goodreads and Litsy as well but those are my main focus. I honestly don't understand blog stats enough yet to set a concrete goal but thank you to everyone that has interacted with my blog. I really appreciate it!
I'd really like to get another auto-approval on NetGalley. I have three so far and it's been a while. One of them is for audiobooks and the reason I could get To Sleep in a Sea of Stars by Christopher Paolini without having to wait for approval by the publisher. That alone makes me so thankful for that auto-approval.
Buy at least one book each month that is newly published to support authors, especially those that I enjoy interacting with so much on Twitter!
And to close out my reading goals for now: All the awesome people on Twitter have helped me realize how diversity is lacking in my reading. While I have tried to read more books by women and people of color this year, there is still a big hole left. I am severely lacking in books that are about or include the queer community! So while my NG list will continue to dominate my reading this year, I want to start building a list of books to read next year to fix this.
That's probably enough for now seeing as we are in the last third of the year. But go big or go home, right? I don't want to make reading stressful for myself but I do enjoy setting these goals and checking where I am at with each to encourage and push myself to read regularly. Reading is closely connected to my emotions and I see a change in my mental health whenever I stop treating it as a priority. Things can get pretty dark sometimes so I want to make sure I do everything I can to help myself. And thankfully it is a lot of fun! There are just so many good books out there! It's too bad we'll never be able to read them all!
Do you have reading specific goals? Let me hear about them! Do you have any books you think I should read? I would love to hear about those as well!
"Let's be reasonable and add an eighth day to the week that is devoted exclusively to reading." – Lena Dunham
GIVEAWAY TIME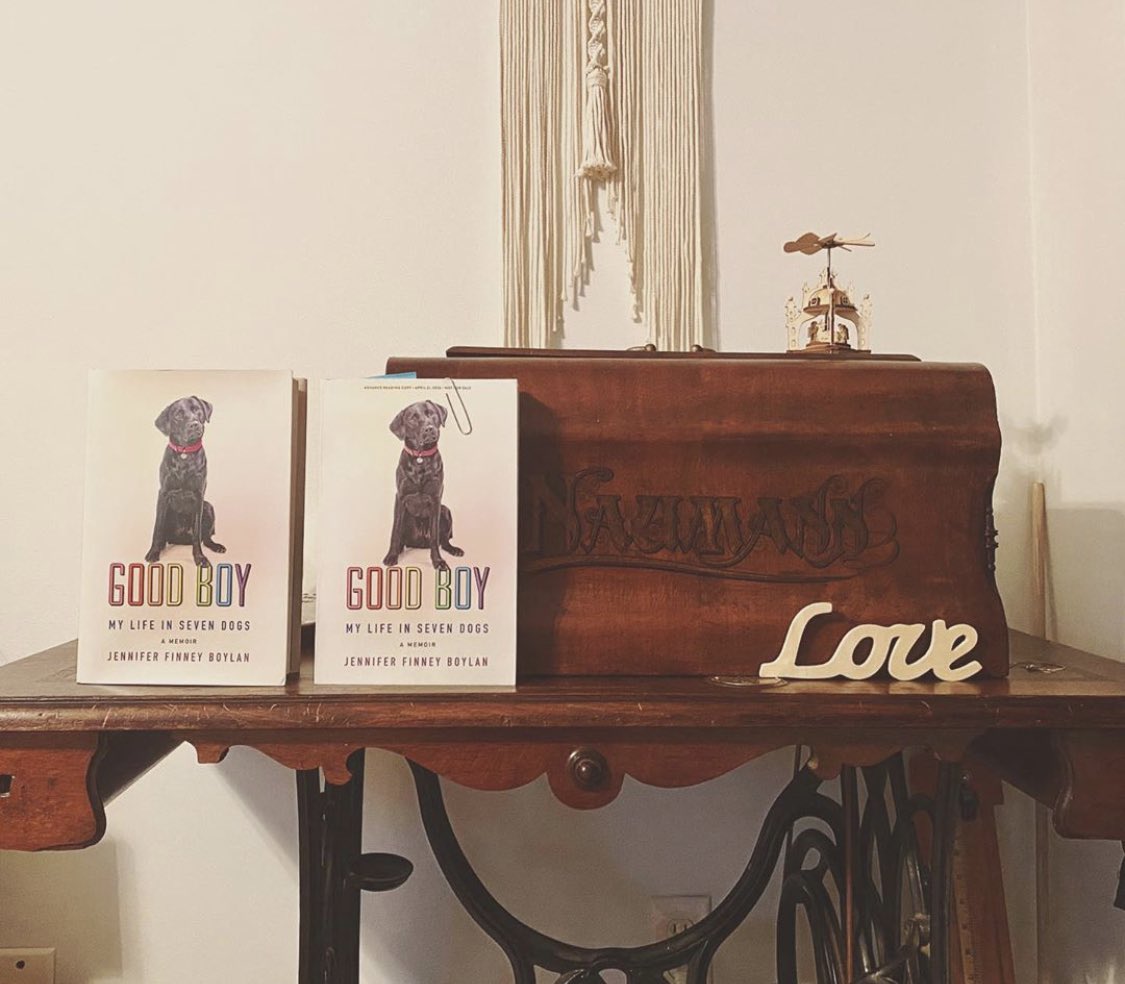 To celebrate reaching 500 followers on Instagram, my first book-related platform that took forever to get any kind of traction, I'm hosting a giveaway for Good Dog by Jennifer Finney Boylan. I was lucky enough to receive two copies of this book so I want to pass one on to yall!
Please go to my Instagram account to see how to enter!
https://www.instagram.com/the_shaggy_shepherd/
And with this I will wrap things up here. We finally got new floors upstairs (luxury vinyl planks) and I need to go and get some things before we bring our furniture back up there.