I'm sorry for not posting this yesterday but here is what I'll be working through this week!
Audiobook
To Sleep In A Sea Of Stars // by Christopher Paolini // narrated by Jennifer Hale
Update:
This audiobook is a beast! It's more than 32 hours long and very detailed so I'm actually listening to it at normal speed. I have about 8 hours left to go so I will be done with it this week. While I'm excited to start a new one, I'll also be sad to see this one go because it has been absolutely incredible so far. The details in the story are amazing. And the narrator? O. M. G. Jennifer Hale is absolutely amazing. I could hardly believe it when she tweeted back last week and said this was her first audiobook narration. Her range of voices is so good that you don't even have to hear the name of the person talking a lot of the time because they are so distinctive. I hope she does many more audiobooks because I will listen to them all.
Physical Book
Jo & Laurie // by Margaret Stohl & Melissa de la Cruz
Synopsis:
1869, Concord, Massachusetts: After the publication of her first novel, Jo March is shocked to discover her book of scribbles has become a bestseller, and her publisher and fans demand a sequel. While pressured into coming up with a story, she goes to New York with her dear friend Laurie for a week of inspiration–museums, operas, and even a once-in-a-lifetime reading by Charles Dickens himself!
But Laurie has romance on his mind, and despite her growing feelings, Jo's desire to remain independent leads her to turn down his heartfelt marriage proposal and sends the poor boy off to college heartbroken. When Laurie returns to Concord with a sophisticated new girlfriend, will Jo finally communicate her true heart's desire or lose the love of her life forever?
Why did I choose this:
This was a win from BookishFirst. I have never read Little Women but still found the First Look fun and intriguing. The book cover is beautiful and I'm happy to have it sitting on my shelf.
Current Thoughts:
I'm not very far into it but like the writing style so far. I've read some Melissa de la Cruz books before so I'm not surprised by that. I do enjoy both Jo and Laurie as characters so far and am curious to see how this plays out.
Kindle Book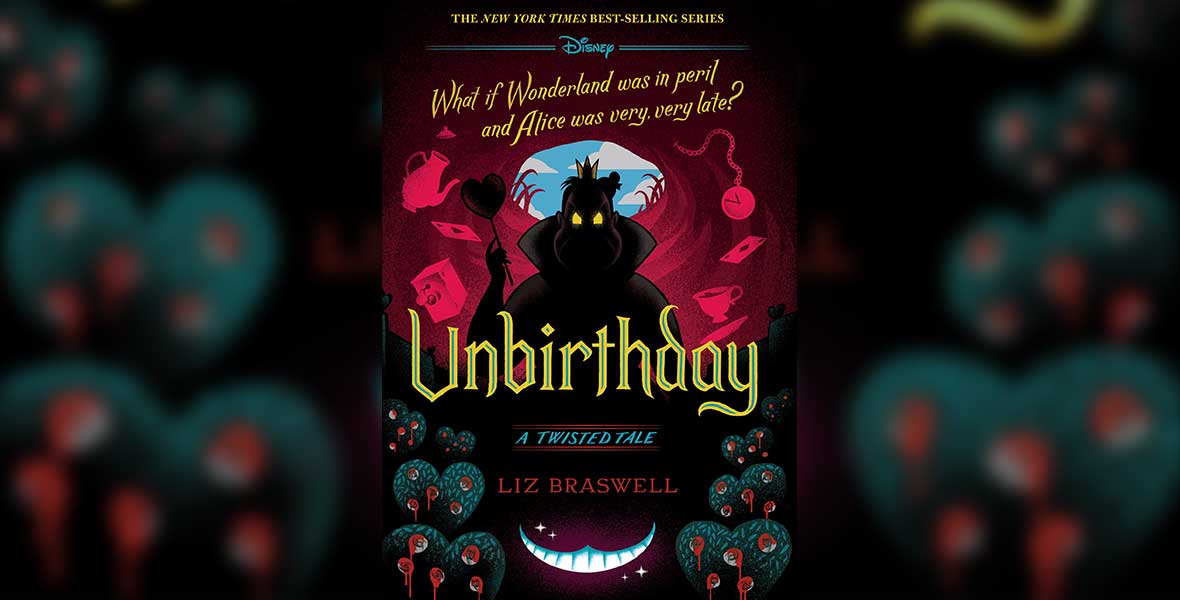 Unbirthday // by Liz Braswell
Synopsis:
What if Wonderland was in peril and Alice was very, very late?
Alice is different than other eighteen-year-old ladies in Kexford, which is perfectly fine with her. She'd rather spend golden afternoons with her trusty camera or in her aunt Vivian's lively salon, ignoring her sister's wishes that she stop all that "nonsense" and become a "respectable" member of society. Alice is happy to meander to Miss. Yao's teashop or to visit the children playing in the Square. She's also interested in learning more about the young lawyer she met there, but just because she's curious, of course, not because he was sweet and charming.
But when Alice develops photographs she has recently taken about town, familiar faces of old suddenly appear in the place of her actual subjects-the Queen of Hearts, the Mad Hatter, the Caterpillar. There's something eerily off about them, even for Wonderland creatures. And as Alice develops a self-portrait, she finds the most disturbing image of all-a badly-injured dark-haired girl asking for Alice's help. Mary Ann.
Returning to the place of nonsense from her childhood, Alice finds herself on a mission to stop the Queen of Hearts' tyrannical rule and to find her place in both worlds. But will she able to do so . . . before the End of Time?
Why did I choose this:
I've been wanting to try more retellings of old stories so when this one popped up on NetGalley, I jumped at the chance. I pre-ordered the entire series as ebooks and am looking forward to receiving those in October. If you are interested in these, you should check out the ebooks on Amazon soon. I was able to snag them for a dollar or two – I can't remember what exactly – and there are a lot of books for that price!
Current Thoughts:
I'm also only a few chapters into this one and it's a little creepy. Very intriguing though!
Basic Bitchen // by Joey Skladany
Synopsis:
Embrace your inner basic bitch with these 100+ everyday recipes for "basic" meals you shamelessly love.
In a world where everyone seeks to be special and pride themselves on their differences, there is one common bond that unites us all—basicness. And while some rock the Ugg boots and drink pumpkin spice lattes more than others, we can all still appreciate the simple pleasures that mimosas, avocado toast, and acai bowls bring. And that's okay!
Basic Bitchen celebrates and embraces the basic bitch lifestyle through food, offering step-by-step recipes for the most fundamental (and delicious) of all dishes. Recipes include:
Basic Bitch Lifeblood, aka. the Pumpkin Spice Latte
Mom's Definitely-Not-Sicilian Sicilian Caesar Salad
"I Could Eat This, Like, Every Day" Sushi Rolls
A Deeply Personal Cauliflower Pizza
Way Too Easy (If You Know What I Mean) One-Sheet-Pan Dinners
Antidepressant Red Velvet Cake Pops
In addition to these easy, fun, and flavorful crowd-pleasing recipes, Chowhound editor Joey Skladany provides tips and tricks for cooking basics, such as how to build a pantry and cooking tools that every chef needs. Take your cooking skills beyond the microwave and make meals all of your friends will enjoy.
Why did I choose this:
Did I choose it or did it choose me? Whatever it was, I saw it and had to have it!
Current Thoughts:
I haven't tried out any of the recipes yet but just reading them is hilarious. I'll definitely be trying some of these out. I also like his kitchen essentials breakdown in the beginning of the book. As a terrible chef myself, I need all the help I can get.
Goodnight Stories for Rebel Girls: 100 Immigrant Women Who Changed The World // by Elena Favilli
Synopsis
The latest installment in the New York Times bestselling Good Night Stories for Rebel Girls series, featuring 100 immigrant women who have shaped, and will continue to shape, our world.
Good Night Stories for Rebel Girls: 100 Immigrant Women Who Changed the World is the third book in the New York Times bestselling series for children. Packed with 100 all-new bedtime stories about the lives of incredible female figures from the past and the present, this volume recognizes women who left their birth countries for a multitude of reasons: some for new opportunities, some out of necessity. Readers will whip up a plate with Asma Khan, strategize global affairs alongside Madeleine Albright, venture into business with Rihanna, and many more. All of these unique, yet relatable stories are accompanied by gorgeous, full-page, full-color portraits, illustrated by female artists from all over the globe.
Why did I choose this:
Because it's incredible! The entire series is! I literally squealed out loud when I got the email from NetGalley with it. I love gifting these books to the young girls in my life and am excited to have one focusing on immigrants specifically now.
Current Thoughts:
LOVING IT. I've already learned so much! I've added more books, biographies, and podcasts to my TBR thanks to it too.
Book on my Phone
Whatever Works // by Thalma Lobel
Update:
As I've said before: I really hate and struggle with reading on my phone. I'm not really any further with it than a week ago. I'm thinking about leaving it for now and buying a print copy when I get a chance instead. I really do love the premise of this book and think it could be very useful based on what I have read so far.
The Book of Mythical Beasts and Magical Creatures // by Stephen Krensky
Synopsis:
Enter the enchanting world of mythical creatures and explore the history behind them in this beautifully illustrated compendium for kids aged 7 to 9.
You'll meet an incredible cast of mind-boggling fictional animals from all around the world. Say hello to Bigfoot in the forests of North America and learn about the Native American traditions that inspired its story. Voyage to Japan to meet kitsune, supernatural nine-tailed foxes that can turn into humans. And jump onboard an ancient storm-battered ship to learn why mermaids were the last thing a sailor wanted to see…
Learn about the societies that spawned these legendary creatures, from Ancient Greece to the indigenous tribes of Australia, and find out what the beasts tell us about the people who created them.
From narwhal tusks inspiring the legend of unicorns, to dinosaur bones creating rumours of dragons, there is an interesting story behind every magical beast. Mythical Beasts and Magical Creatures tells you everything you need to know about supernatural animals great and small.
Perfect for fans of Harry Potter and other fantasy tales, this is the only kids' guide to magical creatures that tells you the history behind the mythology.
Why did I choose this:
The cover is beautiful (YES, I judged a book by its cover lol) and it sounds like a very interesting book that I would love to feature on my blog.
Current Thoughts:
I'm enjoying it so far. The creatures are from all over the world and there are a lot of interesting facts about them. I can see a lot of children loving a book like this.
This is what I've got so far! What are you reading this week? Have you received anything exciting from NetGalley lately?